---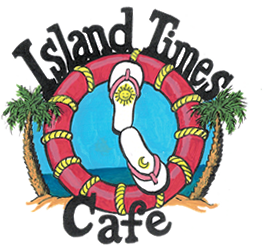 ---
Hours
Closed Mondays
Tuesdays and Wednesdays 8- 3
Thursdays-Sunday 8-5
---
We are a family owned business and look forward to seeing you.
Island Times Cafe was started in 2015 by Sara and Tim Williams. We are both transplants to the area via Maryland and New York. Tim moved to the Boiling Spring Lakes community with his parents in 1984 and is a South Brunswick and UNCW Alumnus. Some Bald Head Island property owners may recognize him from his 3 year stint as a bartender at the Old River Pilot Cafe and the BHI Club in the early to mid 90's.
Sara moved to the Oak Island area with her parents in 1986 and the two were High School sweethearts. Sara and her family moved back to Maryland after only one year. Fast forward 25 years and the all powerful FACEBOOK got the two back together and were re-united and married in 2012. Sara has two children Jake and Marissa and Tim has one Daughter Alyssa.
Island Times Cafe is growing daily with our ever expanding menu of delicious foods and Sara's insatiable need to BAKE!! ITC has since become a favorite for the locals and tourists from all over the world.
Our food is made fresh daily and when we say "fresh" we mean fresh.